As you're reading this, you're probably working with a number of applications - perhaps an Ecommerce Application, Customer Relationship Management (CRM) system, a Content Management System (CMS), an Email Service Provider (ESP), a Blogging Platform, Social Networking Application and, of course, Analytics, to name a few. Each of these solutions has its own specialty and solves its own issues.

The impact of those independent solutions, though, has probably raised the curiosity of your accounting department. After a year or two of analyzing the numbers, those investments rarely pay off so Marketing departments are urged to do 'more with less', dropping a number of the solutions and writing them off as "We tried but it didn't have the impact that everyone anticipated.".

At issue is that the return may never exist for any single solution.

As a result of this siloed view, companies scoff at the high cost of these solutions. Upper management invests in the "CRM Whitepaper", or the "The ROI on Corporate Blogging", or "The Top 10 Email Marketing Solutions", each research paper providing a comprehensive and honest analysis of each application by itself. A challenge to businesses is also the typical procurement process, defined by the purchase and return on investment of a single solution. Even worse, providers continue to throw gas on the fire by actually charging for their application's integration abilities alacarte.

New to the Application Landscape: Connectors

This week I met with
Right On Interactive
, a software firm in Indianapolis that is positioning itself as a connector. Their premier product, 5 Buckets, is a solution that bridges the gap between all the maze of applications you'll find in the average marketing department. 5 Buckets allows a marketer to simply build complex queries based on client demographics and behavioral info, then allows them to automate communications based on that data.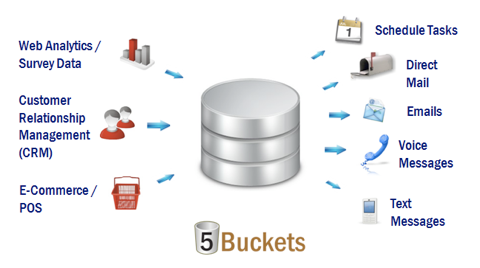 The challenge to any modern organization is that they run lean and mean, with more customers than manpower to maintain relationships. The reason why we need all of these applications is to increase engagement between the company and both their prospects and customers. We really do need them, but the problem is that we rarely have time to fully utilize them. Instead of building out programs that better utilize exisiting tools, we're now looking to invest in even more tools. We didn't have time before, why would we now?

Understanding the Customer Lifecyle

Competitive markets require businesses to acquire customers faster and sustain a relationship with the customers we have. The quality and frequency of those engagements will allow you to maximize acquisition and customer retention. While customers require the human touch from time to time, supplimenting those engagements with automated, targeted messaging through multiple communication mediums will pay off. Finding a solution that can automate those will maximize the Return on Investment - not just on the connector - but on each of your core applications as well.




In the past, this required significante investments in developers to automate the applications through scheduling applications and Application Programming Interfaces or Web Services. Those are not simple development tasks, though. The expense and continued changes needed to fine-tune this automation can be prohibitive. This is exactly the reason that new 'connector' applications such as 5 Buckets are already drawing a great deal of attention. Right On Interactive reposts over 300 new clients in the last year, with the majority of those having integration between
Salesforce
and
ExactTarget
, without being publicly listed in
AppExchange
!

"Free" Your Product's Integration Capabilities

My last word of advice on this is to the companies who develop the core solutions. Application Programming Interfaces (APIs) require less support, less code, less development resources, and less management while embedding your product in the business processes of your customers. That you would charge extra is incredibly short-sighted. Integration isn't a feature that should be sold ala carte, it should be included and pushed with every sale.

By not enabling integration, these application providers are not just limiting their customers, they're actually putting their customers at risk because there is no dependency on the application as a whole.
Douglas Karr
is the Vice President of Blogging Evangelism for Compendium Blogware in Indianapolis, a corporate blogging platform. You can read The Marketing
Technology Blog
or
Social Media Domination
. Douglas Karr has been in the Advertising and Marketing Technology space for over two decades. The clients that he's worked with directly are an impressive and diverse collection of companies throughout North America, Europe, and Australia.
---
Marketing Communications Manager
MilliporeSigma
Rockville, Maryland
---
Art Director
Public Alliance
San Antonio, Texas
---
Sr. Graphic Designer / Creative Director
Kerigan Marketing Associates, Inc
Mexico Beach, Florida
---
Digital Product Strategy Consultant
Ad Council
New York, New York
---
Community Manager - US
Yoto
New York, New York
---
Confidential Executive Officer (HEO) - Pre...
Hunter College
New York, New York
---
Marketing Director
Sophie's Kitchen Food, Inc.
Las Vegas, Nevada
---
Digital Engagement Strategist
Habitat for Humanity of Jacksonville
Jacksonville, Florida
---
Content Strategist
C Squared Social
Carlsbad, California
---
Advertising Jobs
New Media Jobs
Creative Jobs
Marketing Jobs
Geek Jobs