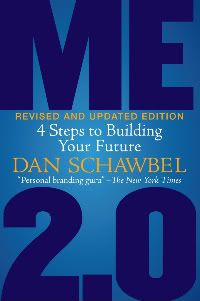 I like to read. And, not just a few books a year. I read roughly 20 books a month. I used to read a book a day, but that got progressively harder to do after running a company and getting married. Oh well. I share this factoid so you may have a context for this particular book review. When you read as much as I do, the books start to blur. And, when one stands out, I know it is time to truly review it!
Me 2.0: 4 Steps to Building Your Future by Dan Schawbel (the revised and updated edition) is a must read for business owners and employees alike. And, as an employer who has the displeasure of seeing the same bland résumé after résumé, a definite read for those in transition. Dan argues that in a noisy world, you must define who you are and the value you bring to the table. Hence, your personal brand. He begins with his own tale of personal branding discovery, and then delves into case studies from various entrepreneurs and recognizable personalities who have built a brand for themselves.
I am also partial towards books that give me solid how-to advice. Dan's book is loaded with such advice. You will find lots of useful websites, bullet points, and step-by-step instructions.
Here are three things which particularly caught my interest:
How to create your PERSONAL marketing plan. Hint: Think daily and yearly.

How to deal with network overload. And, these are solid tips!

How to protect your identity. A very nice addition.
Highly recommended reading for anyone looking to build or further solidify their brand. You can find more about the book at http://personalbrandingbook.com/.