Although economic times are hard, now more than ever is the best time for small businesses to get into the Google Adwords game. Google is making a big push to bring local mom and pop shops into the world of paid marketing. One way they are driving small business usage is by adding more and more options to their location targeting platform in order to help businesses target customers within their service areas. Now neighborhood businesses, such as pizza delivery, dry cleaners, and couriers can to target only the customers who live nearby. Businesses can target by location in Adwords based on city, metro area, state, down to an exact zip code. But before you dive in headfirst, you need to make sure you understand how Adwords location targeting works and what kind of location targeting will work for your business.
Now before we get into specific tactics to use with location targeting, let's be clear on what location targeting is, and how Google displays ads.
Google serves geo-specific ads, which are ads targeted to a searcher's location, based on several criteria. First, Google examines which search engine the searcher is using, for instance users searching on Google Spain (www.Google.es ) will generally see ads relevant to that country. Next Google looks for location specific keywords in the search query, for instance the searcher typing 'dog daycare Las Vegas' would be shown Las Vegas targeted ads, regardless of whether they are searching from a computer in New York City or in Nevada. This is part of Google's efforts to deliver the most relevant results to searchers. In addition to these factors, Google examines a user's IP address to determine where a searcher is located. If the search term is 'dog daycare' and the searcher is located within the Las Vegas area, the searcher will be shown ads from dog daycare businesses that have set their location targeting to Las Vegas.
Google, Yahoo and MSN all determine where a searcher is located based on their IP address. Every time you log on to your computer, an IP address is assigned to you by your internet service provider. Search engines use this IP address to map your computer to a physical location. This is a relatively accurate system for the most part; however it is not without issues. Some users are assigned physical locations of an entire city or a broader area, and some are assigned addresses not found within the search engine's database. Some users' IP addresses are mapped to a completely different state or city, depending on the location of their Internet Service Provider. Therefore, Adwords cannot and will not guarantee all of your clicks will come from inside your desired geographic area.
So How do you prevent clicks from unwanted areas? And how do you create the best location targeted campaign for your business?
Let's look at a couple different examples and my best practice suggestions for setting up geo-targeted campaigns.
1)

You own a pizza delivery business in Los Angeles. You only service customers in a 5 mile radius of your pizza parlor. In Google's targeting options, You should choose the custom targeting tab and type in your location and select 5 miles around your specific location.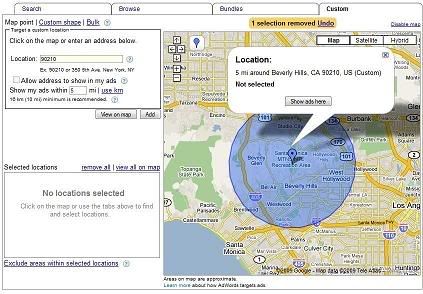 -Also, if your business serviced a particular neighborhood, for instance all of Beverly Hills , I would recommending creating a separate campaign in which you choose the entire city of Los Angeles and surrounding areas and run keywords such as 'Pizza Beverly Hills' , and 'pizza delivery Beverly hills' . In this case, I would use the Term 'Beverly Hills' in my ad copy to let searchers know my business was in the specific area.
2)

You own a business that sells wholesale cell phone accessories. You can only ship within the United States. So, at first you opt in to Google's location targeting by country, and selected only the US. However, you are finding that over half of the visitors from Adwords are coming to your site from Australia and Canada. Why is this happening? Users in Canada and Australia are performing searches for 'cell phone accessories' using the country specific domain for the US – google.com and not the Canada and Australia domains – google.ca and google.com.au . Change your location targeting to regional and go to the Browse tab in location targeting and select every major metro region in the US. If you want to further qualify the IP location of searchers, I would recommend avoiding the metro areas which overlap with Canada and Mexico.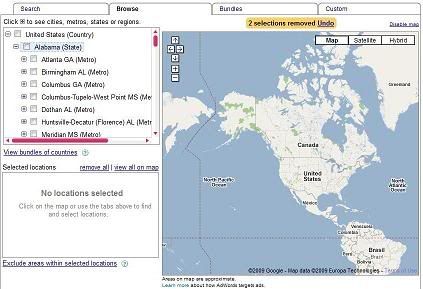 3)

You are a locksmith who services a portion of the state of Nebraska. You have certain cities you can do work in, and others which are covered by affiliated companies. Because it is a rural area, you find it hard to choose just cities to cover, because the majority of your customers do not live within a city limit. How should you target your campaign ? First you should go in and select all the cities which you do cover, by going to the search tab of location targeting and searching for each individual city, or by clicking on each city on the map. Second you should navigate to the custom tab, and draw a custom shape around the area you want to target, encompassing all the cities and areas outside of the cities. Third, if you want to exclude any metro areas , click on 'exclude areas within selected locations' underneath your list of selected locations then browse for areas to exclude. These are all going to be cities and metro areas, and you can not yet custom- define excluded areas.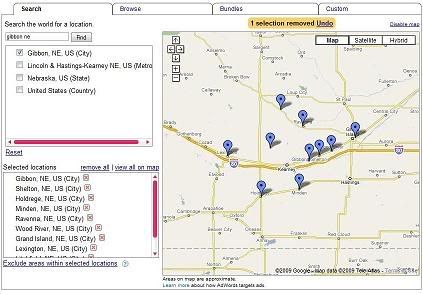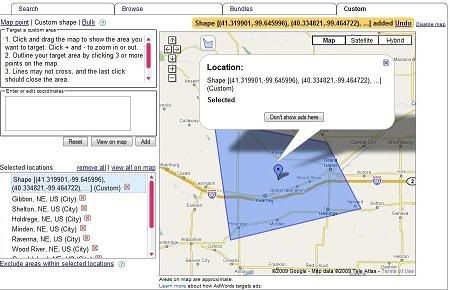 -

After creating your regionally targeted campaign, I would recommend creating a separate campaign targeting all of Nebraska and surrounding states (not the entire country), running keywords that are location specific to your service area, such as "Locksmith Kearney Nebraska" and "Locksmith Kearney" and "Locksmith southern Nebraska" , etc.
This should be a good start for who are setting up or correcting existing campaigns. Feel free to leave questions and comments on the specific problems you have encountered using Adwords location targeting in the comments section.
Morgan Vawter is an SEM professional focused on pay-per-click optimization, social media optimization and white hat SEO. She has had a successful career vastly improving cost per conversion and increasing conversions for all of her clients. She has managed many large SEO campaigns and pay-per-click ad spends of over $1,000 per day. She is currently the managing director at Leads By Fone, a nationwide lead generation company.