This year, about 100 new writers and art directors will spill out of their portfolio schools, looking to land their first jobs. And in about three years, most of those same junior creatives will be looking for work at an entirely new agency.

That's because most junior creatives follow an almost-clichéd trajectory: They get a job, work hard for a couple of years, start building their book, and move to a new shop.

That's not just speculation. I recently conducted a survey of more than 250 junior creatives and portfolio school students. The results show that over 82 percent of them expect to be at their first agency no more than three years. A similar poll among creative directors shows that 94 percent of the CDs have the same expectation of their junior teams. They come on board, log a few years, move on, and everyone seems fine with that.

But they shouldn't be.

From the agency's point of view, this is a terrible way to run a company. Imagine a factory or a school that has to routinely replace an integral part of its staff or faculty every one to three years.

Once a junior team decides to leave, the costs of replacing them can escalate quickly. Interviewing fees might include roundtrip airfare, hotel accommodations, and dining expenses. There could be headhunter fees, as well as hiring freelancers in the interim. Even when a team can be hired locally, at the very least it means tapping into the working hours of agency principles, creative leaders, and staff that might better be put to use for paying clients.

So, what if those junior creatives stayed at the same agency? And what if they had reason to?

In this same poll, the junior creatives were asked what incentives would keep them at their agencies longer. "More opportunities to do great creative" was the number one reason. No surprise there. But what's interesting is that being mentored by a creative director is a bigger incentive to junior creatives than a pay raise.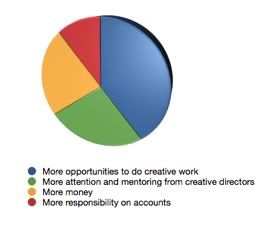 Creative directors similarly agreed that more opportunities to do creative work is the greatest incentive for holding onto their junior teams. But their responses skewed towards "more money" as the second greatest reason, with mentoring and attention being less important.

In other words: While juniors are planning to move on in three years, unless more creative opportunities and more mentoring are available, creative directors are expecting them to leave while overlooking the more valuable, more sought-after, and more cost-effective mentoring that might actually keep a team around longer.

With hundreds of portfolio school graduates trying to enter the work force each year, maybe the loss of talent seems inconsequential. With such a huge pool to draw from, replacing talent shouldn't be an obstacle.
However, the agency's bottom line isn't the only element affected when a junior team departs. It's also in the agency's best interest to hang onto talented juniors as long as possible, because losing them can be a drain on the agency's culture. Frequent turnover puts a greater onus on the agency leadership to bear and perpetuate the culture. Juniors tend to have a more limited role with clients, which at least minimizes the effect on client relationships. But even when the juniors' replacements are über-talented, new creatives have to take time acclimatizing to a new agency.

It should go without saying that the more mentoring a junior team receives, the better the creative output of the agency as a whole. So, the longer a team remains at an agency, the better its players will become, and the more that agency will reap the benefits of developing talent.

If you're not convinced mentoring is an overlooked factor, consider this: In the same survey, the students and junior creatives were presented with two hypothetical creative directors: an industry superstar whom everyone recognizes, but with whom they'd have limited interaction, and a less famous creative director who still does great work, but with whom they would have daily interaction. Almost all respondents chose the less-famous CD they'd be able to work with on a daily basis.




This confirms a Sally Hogshead maxim: "Which agency you work for usually matters less than which accounts and creative director you work for."[1]

By mentoring junior creatives, agencies are able to hold onto them longer, which improves their bottom line, their culture, and their creative. That's the Mentor Effect, the seldom-tapped resource that doesn't cost the agency anything.

So what does this mean for students, juniors, and their agencies?

As a portfolio school student or junior creative, it's important to understand that not all creative directors are capable mentors. Interviewing students should be conscious of finding ways -- maybe even during the interview process -- of determining what kind of leader and mentor a potential CD is going to be.

For creative directors, it's important to understand what most students want coming out of portfolio school: attention. Chances are, the more they receive, the better their work will be. They're not looking for handholding. But they expect more than "go work on this area" as feedback to their ideas.

For agency management, the knee-jerk reaction might be to hold a short series of "How to Mentor" seminars. But it takes a really amazing seminar on Monday to be remembered by Thursday. The thing agency principals can do is recognize the Mentor Effect, which means recognizing their creative directors' abilities to mentor their junior teams. It's not just about a track record lined with Lions and Pencils. It's about getting the people under them to perform just as well.
---
[1]"The Agency With the Best Softball Team Does the Worst Creative" by Sally Hogshead

Greg Christensen is a brand creative at The Richards Group. He came to Dallas by way of Switzerland, after transferring to Geneva from Y&R's Chicago office. He's taught at the Chicago Portfolio School, co-authors makinads.com, and graduated from the VCU Brandcenter. Though an upstanding citizen, he once gathered and set fire to 178 Christmas trees in his mother's field. Find him on Twitter @happygrc or contact him at happygrc@mac.com

http://www.richards.com/index.html
---
Demand,-Lead,-and Customer Generation Mark...
TrakRef
Nashville, Tennessee
---
VP of Marketing Technology Solutions
Luckie
Duluth, Georgia
---
e-Commerce Channel Manager
Zebco, a W.C. Bradley Co.
Tulsa, Oklahoma
---
Sr. Product Manager--Apparel
Zebco, a W.C. Bradley Co.
West Jordan, Utah
---
Director of Web Technology & Strategy
Elgin Community College
Elgin, Illinois
---
Project Manager
Vladimir Jones
Colorado Spgs, Colorado
---
Administrative Coordinator - Department of...
CUNY Hunter College
New York, New York
---
Director, Business Operations
WWE
Stamford, Connecticut
---
Vice President of Marketing
McWhinney
Denver, Colorado
---
Advertising Jobs
New Media Jobs
Creative Jobs
Marketing Jobs
Geek Jobs