Many, many years ago, when I worked in the tourism industry, I started a new job search and applied at AAA…you know, the map/emergency services organization that your parents belonged to?

In that interview, I got through all of the questions and was sailing along swimmingly…that is, until I got asked to produce my own AAA card.

"Um," I said, fumbling around, "I don't seem to have one."

Game over.

And not surprisingly, shortly after that meeting concluded, I received the ubiquitous rejection letter…which I was expecting after seeing the interviewer's eyebrows raise at my failure to produce an AAA membership card.

This lesson I learned (I won't say how long ago this actually was) still holds true today, ironically.

If you really really really want to get into an organization very badly, it's time to drink the proverbial Kool-Aid. Just saying that you want to work there isn't enough. Employers are looking for clues that validate the candidate's interest and genuine desire in that company.

Are you walking the walk as much as you are talking the talk?

A great way to show it is being involved in the social communities belonging to your target companies.

In an era where an easy Google search can yield all kinds of things about job candidates and most companies have some kind of social media community, it's in your best interest to be a part of that group if you really want to make the cut for being considered on the team.

Does the company have a Facebook page? Join it.

Do they have a Twitter account? Follow it.

Does the business have a LinkedIn group? Send a request to be considered part of it.

The same goes for any other social media forum or community you can find.

We're not talking cyber-stalking or gooey platitudes posted on a regular basis. Instead, this is all about being engaged and a part of that company's social community; that helps make the case that you are already a culture fit.

Most decision makers know that the best product champions are the top customers. Why not convert your affinity/loyalty into brand ambassadorship?

You don't have to go as far as some of the folks working at NIKE, who have tattooed the iconic "swoosh" on their bodies, but if you want a little extra job candidacy mojo, you really need to think about how you can show enthusiasm and excitement over that company's brand or the company in general.

And that alone can put you over the top as a preferred candidate at your target company. Something to think about!


"Forget Job Security: Build Your Marketability" is a new book that outlines all of the control points that can and do influence what career opportunities come our way. Instead of passively assuming that others control our careers, readers will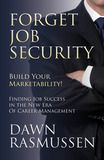 learn how to be actively and mindfully managing their career direction. Complacency has no place in today's employment world… it's all about building value so current employers and future prospective ones can see what you bring to
the
table. Used as a roadmap, "Forget Job Security" outlines every facet of how to conduct job searches as well as best practices to use on the job in order to build professional value in the workplace. By being more productive and resourceful, employees can become indispensable and therefore more employable… whether being pursued by prospective employers or retained by current ones during staff cutbacks.

It's time to seize control of your career destiny… and "Forget Job Security" is the perfect guide on how to get there.

This book is available for sale on Amazon.com.
Dawn Rasmussen
,
CMP, is the president of Portland, Ore.-based
Pathfinder Writing and Careers
, which specializes in mid- to upper-management résumés. She is an active volunteer in her community and donates her time teaching a

résumé writing class at the Oregon Employment Department every week to help empower unemployed professionals and workers.