My first visit to New York City included stepping into the 24,000 sq ft. M&M store on Times Square. Not only did I end up buying M&M merchandise, which is now part of my everyday life, but I also spent an hour just going through one shelf after another, ogling at the seemingly attractive and overly creative transfusions of the brand.
I am not going to hesitate to declare that, soon, advertising will be a bad word. Soon, social media will become an overused, meaningless term.
We, as marketers, must take the necessary steps to define what's next and bring it closer to today. Let's redefine the branding models and readjust our thoughts. It is about time we stop limiting ourselves to advertising and selling products blatantly while ignoring the cultural halos that surround our brand messages. Let's over-deliver.
Brands that will continue to provide extra-ordinary experiences to enhance people's lives will be the ones with dedicated fandom. Let's shift our minds from moving pockets to moving cultures.
Take a look at these brands across the globe, who have recently created experiences by mounting their brands in unexpected environments, digitally or physically.
HP's 'Touch the future' | Singapore
HP, as a brand is known for encouraging invention and innovation. Recently in Singapore, HP collaborated with five local artists to construct and share their visions for the future around five key areas – music, art, communications, gaming and cityscape in Singapore. During this event, HP unveiled a series of new product lines.
But more importantly, HP created a platform for these five talented illustrators to express their ideas through art to a large audience. HP is truly an enabler of communication.
(http://www.youtube.com/watch?v=wO9gbZMaqlA&feature=player_embedded)


Image via Awe50me: http://www.awe50me.com/

IKEA's Space Maker | US
IKEA is constantly reinventing the retail experience. IKEA recently launched 'Space Maker', a website for back-to-schoolers, that allows them to design their room based on its size and layout. Space Maker is a great tool for students that allows and encourages them to think creatively even when space is limited.
Space Maker is definitely entertaining and fun to play with. There are a variety of items and designs to choose from to create a truly customized room, while keeping a tab on the cost involved.
This transcends IKEA's rich retail experience to their online store.

House of Barbie | Shanghai
Mattel made Barbie's 50th birthday grand by launching a six-storied department store in Shanghai, that allows fans to come in, and indulge in all things Barbie. The House of Barbie includes a luxurious spa and a full service restaurant serving Barbitinis.
Barbie is an already established part of a girls' childhood. This helps fans to come in, witness their imaginations and memories come to life and relive their childhood through walking down the Barbie lane.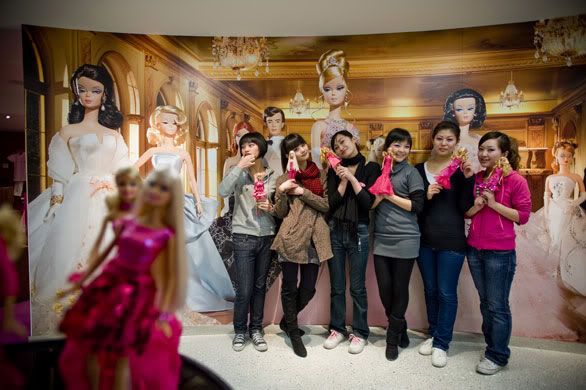 Image via Guardian.co.uk
TVS Scooty | India
TVS Motor Company, the third-largest two-wheeler vehicle manufacturer in India, recently saw an opportunity in an untapped market for their two-wheeler brand, TVS Scooty. Their target was women but they recognized the fact that not a lot of women are trained in riding two-wheelers. So, the brand decided to take a step further and offered two-wheeler training to around 100,000 women in over 100 cities around the country. The initiative is called 'Women on Wheels' and it has not only helped sell the Scooty but also empowered and encouraged these women to be more independent.
We should think beyond the pre-defined, pre-filled media spreadsheets and integrate brands in people's lives in ways that generate excitement and affiliation.