I wrote my first headline in 1992. It pretty much sucked.
Since then it's been a journey. When I started out, I borrowed a few year's worth of One Show, Communication Arts and Art Director's annuals—and voted on my favorite ads via Post It Notes. It was my own personal advertising awards show. I probably nominated over a hundred ads then did the hard work, narrowing those choices down to my personal Top Ten.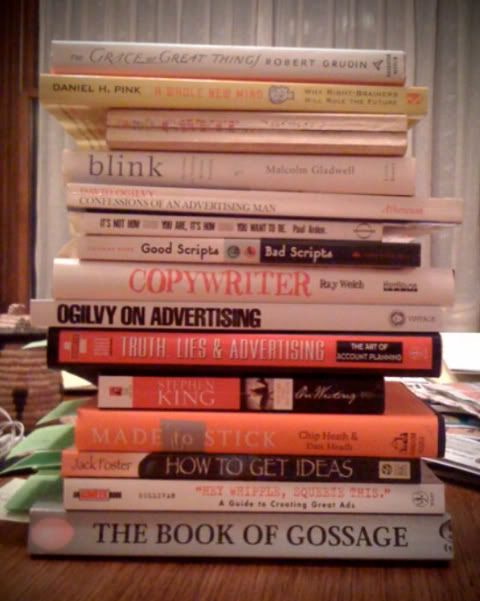 Why was I drawn to the writing of Mark Fenske, Bob Barrie, Bruce Bildsten, Dion Hughes and far too many writers living in Minnesota at the time? I literally transcribed every ad in my Top Ten; drawing an appropriately-sized box on a blank page, then tracing the images and writing out every single word by hand. "Here's his name so you can curse him. Andres Roche." (Anyone?) I was a Jazz major, required to listen to solos by Miles Davis and others for a month then write them out note-for-note. Seemed like a good approach to an aspiring copywriter. It was all about getting the words/music into your muscle memory, not to copy but to inspire.
And so goes the process of figuring out who you are when you sit down and peck away at the keyboard, wrangling words for a living.
This Fall I'll replace the legendary Tom McElligott teaching the Copywriting class at the Minneapolis College of Art and Design (MCAD). The weight bears heavily. I am no Charlie Parker, more of a Sonny Stitt. Still, it's exciting. Bruce Bildsten, among many other greats, has agreed to stop by for a guest speaking slot. We're going to have fun.
I've recounted this line before: "If you want to learn something, teach it."
17 years into this adventure with words I'm continually fascinated with what can happen—with the process of ideas, with the art of persuasion, with the unknown. I'm eagerly hitting the books to rediscover all the wisdom I'd forgotten I'd crossed paths with before. I'm also curious how we'll chart the mutation and evolution of Copywriting in this digital age. When I started, the role of Copywriter, as my old collaborator Khari Streeter put it, was, "80% conceptual thinking, 20% finish carpentry." How does that play out in the age of blogging, social media and 140 character limits?
In the case of writing copy, books matter. Or as Stephen King puts it, "If you want to be a writer, you must do two things above all others: read a lot and write a lot. There's no way around these two things that I'm aware of, no shortcut." Lucky us.
The image (sorry, I don't have an iPhone 3GS yet, but I do have the Camera Kit app) gives you a sense of my current reading list. My MCAD course requires students to acquire The Book Of Gossage, Sullivan's Hey Whipple: Squeeze This, The Heath Brother's Made to Stick, Foster's How To Get Ideas and King's On Writing. But I'll be pulling from the entire lot; bits and pieces from Ray Welch's excellent Copywriter, Steel's Truth, Lies and Advertising, Pope's Good Scripts, Bad Scripts and Dick Cavett's Cavett. Copywriting is, first and foremost, writing (one still hopes).
My sense, sitting in Minneapolis in mid-August 2009, running my own ad agency, is that copywriting hasn't, and shouldn't, change much. The role remains central to the process of figuring shit out, and conveying that insight to the world. We only had words, images and motion for a while. Now we've added technology (e.g. "inter-action") to the mix. But still, we convey concepts via the written word. Best to try and teach the young how to get that part figured out, right?